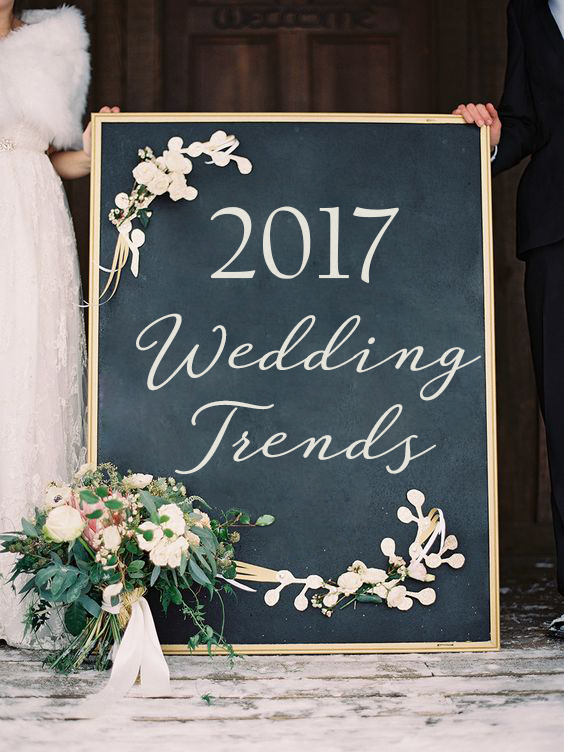 At Southern Graces, we've been catering, planning, and providing floral and design services for weddings for more than a decade. Over the years, we've seen the rise and fall of many wedding trends – here's what we see in store for 2017!
Brushed Metals and Mixed Metals
While silver and gold have been making an appearance in weddings for years, in 2017 brushed metals are overtaking them as the accent of choice. Brushed metallics like copper, rose gold, and pewter are rising above the traditional oh-so-shiny gold and silver for many reasons. They're versatile enough to tie in beautifully with any wedding color scheme, and lend a modern, industrial vibe to any setting. Plus, mixing metals is effortless – there is no one "recipe" for which metals to use, where to use them, or how many items of each metal you should use. The beauty of using mixed metals in your wedding decor is that they will all tie in together, creating a stunning look for your big day. Our tip for using mixed metals is to select a focus area that is important to you, and decorate around that. For example, if you have fallen in love with stunning pewter candelabras for your centerpieces, go softer on the surrounding accents by using vintage glass or rose gold votives with natural greenery. This will complete the look without stealing attention away from your focal point.
Pair mixed metals with another 2017 wedding trend, neutral tones, for an overall look that is chic and modern, yet straight out of a storybook romantic.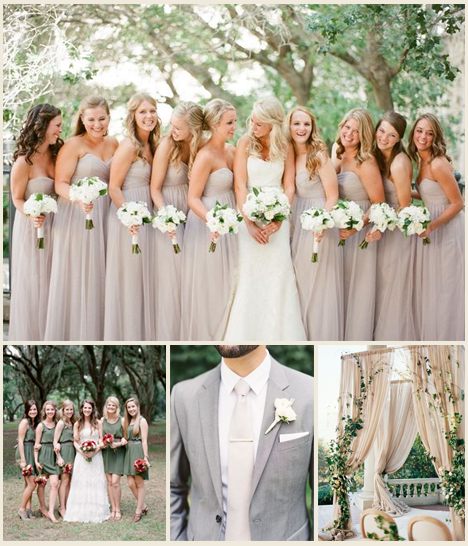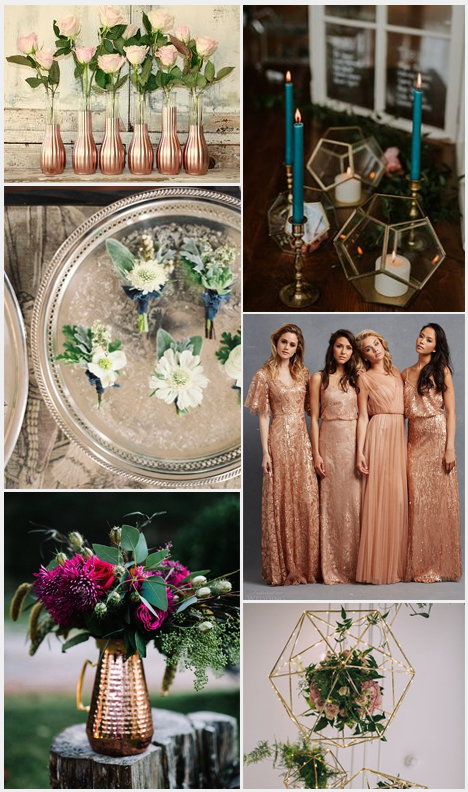 Neutrals
A classic for a reason, neutral wedding color palettes are making a big reappearance in 2017 weddings. Creams, grays, taupes, and golds make for a dreamy colorscape that can be accented by any pop of color you desire. The possibilities are endless, as there are so many shades of neutrals to choose from. Neutral wedding colors can also go with any style you have in mind – be it boho chic or black tie elegance. Plus, they look gorgeous with…
Garden Inspired Florals
Natural greens with fewer blooming flowers will be making quite a statement in 2017 weddings. From centerpieces to arbors, overhanging accents, hair accessories and table runners, delicate branches and leaves will be adding a natural air of romance to many weddings. Seeded eucalyptus, silver dollar eucalyptus, ivy, ferns, palm leaves and lemon leaf garland all give off lush, romantic vibes that will set the mood for the evening. Even the tiniest of tendrils make for a big impact, and when paired with only a few stunning blooms the look will pop even more.
Peonies, ranunculus, dahlias, and of course garden roses are a romantic pairing to the luscious greenery. Our pick – proteas! There are many varieties to choose from, and these bold blooms make for gorgeous pops of color in your wedding photos.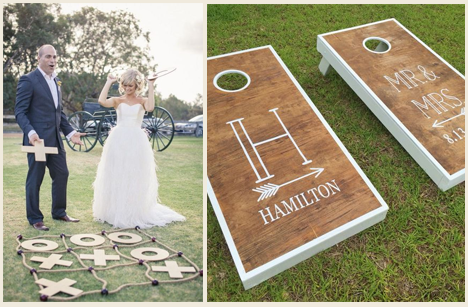 Guest Engagement
One of our favorite 2017 wedding trends is the rise of fun activities and decorations that give a unique, personal touch to every wedding. From lawn games to interactive photo booths, Snapchat geofilters, and live streaming wedding videos, couples are coming up with new ways to provide easy conversation starters to bring their families together on their wedding day.
Hanging Floral Arrangements
Gone are the days where the tables were the only things decorated at weddings. Today's brides are taking advantage of open space above guests' tables to add an additional touch of style to their receptions. Draped garland and low-hanging blooming chandeliers remain popular in 2017.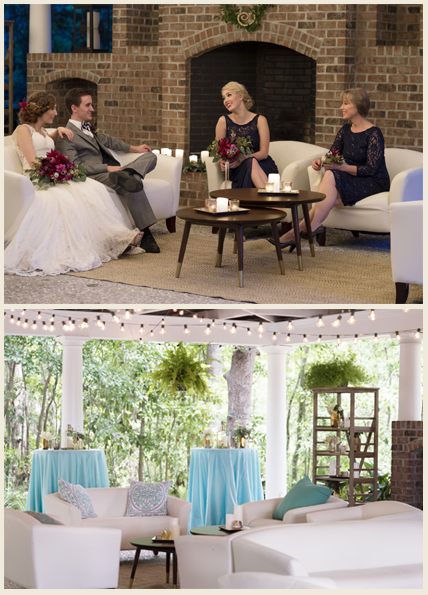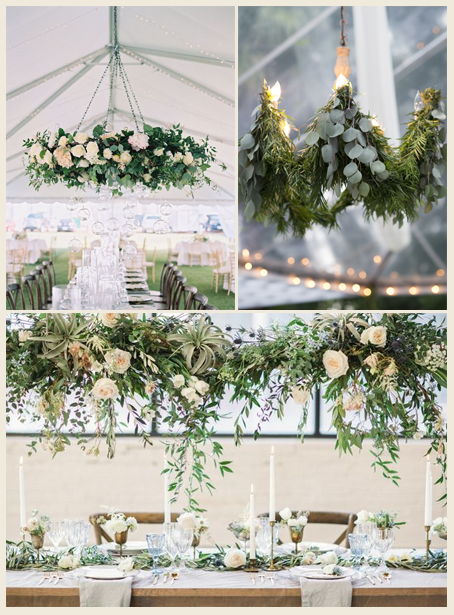 Lounges
Lounge areas have been popular in cocktail hours for years, but more and more they are being used throughout the entire wedding day. These work equally well for pre-ceremony pictures and as a welcome respite from a busy dance floor. As more and more couples are ditching after-parties in favor of a longer reception (with a simple lighting change and refreshed bar for more of a club-like feel, you can have an after-party at your own venue), lounge areas are going to be bigger than ever in 2017.
Dessert Stations
Wedding cake isn't going anywhere, but it is getting some good company. Many weddings in 2017 are expected to feature multiple dessert stations so that guests can mingle after dinner, similar to the pre-dinner cocktail hour. S'mores stations, doughnut bars, caramel apple dipping stations, popsicle stands, and ice cream stations are just a few of the sweet treats many wedding guests will be enjoying thanks to this delicious 2017 wedding trend.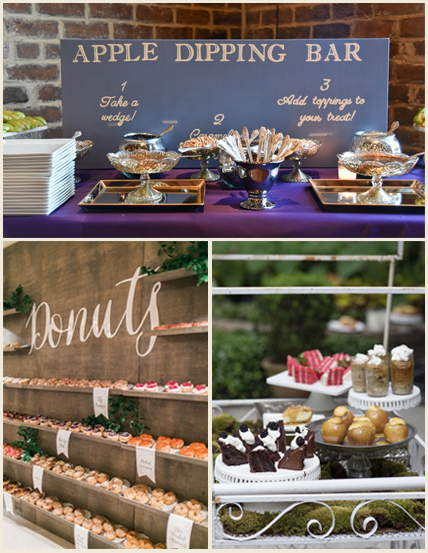 Giving Back
Instead of wedding registries, many modern couples are creating charity registries. These allow their guests to choose a charity from the couple's list of meaningful causes, and donate in their honor. We love this thoughtful focus on giving rather than receiving!