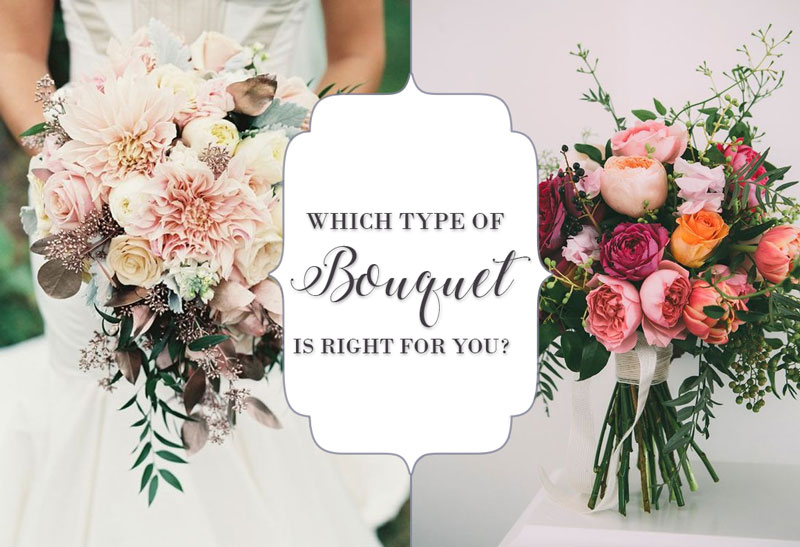 So many different types of bridal bouquets have evolved over the years that it can be hard to keep up! Luckily, Southern Graces has been offering floral design services for years, in addition to our catering, planning, and design services, so we know a thing or two about finding the right bouquet for every bride. Here's a quick rundown of the different types of bridal bouquets out there!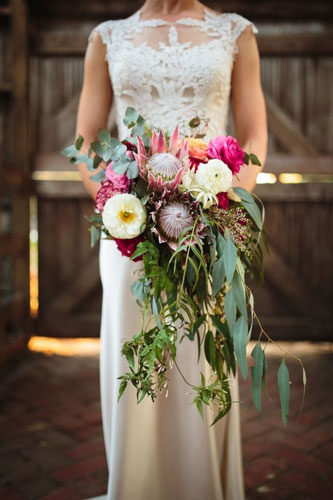 Cascading Bouquets
Appropriately named, these bridal bouquets resemble a waterfall; flowers and greenery literally cascade out of this bold arrangement, spilling elegantly down from the bride's hands. These bouquets were originally dubbed "shower bouquets," and over the years have also been called teardrop bouquets and trail bouquets, as they are rounded at the top and trail downwards into a point – like an upside-down teardrop. This is a bold style perfect for brides who desire to make a dramatic statement with their florals. The late Princess Diana herself carried a cascading bouquet on her wedding day, causing a swell in popularity for this striking arrangement. Almost any flowers look stunning in a cascading bouquet, so you can use this popular shape with your own personal combination of favorite blooms and greenery to create a truly one-of-a-kind look for your wedding day! Pro Tip: because of the size and grandeur of cascading bouquets, we recommend keeping your bridal gown and accessories simple so as to create a well balanced, harmonious wedding look.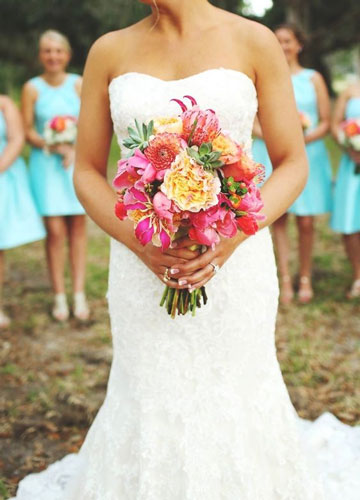 Posy bouquets are perhaps the exact opposite of cascading bouquets, though equal in popularity. These bouquets are much smaller, with a rounded top and ribbon-wrapped stem. Whereas cascading bouquets' size makes them heavier and require two hands to hold, the posy bouquet can easily be held in one hand (meaning your maid of honor will thank you while she holds your bridal bouquet during the ceremony!). Traditional posy bouquets are structured, with stems either wrapped in or completely replaced by florist's wire. This makes the bouquet look more formal, plus even easier to hold. The stems are then wrapped in a fabric that accents your blooms and your wedding colors to tie your look together (no pun intended). Our favorite flower for posy bouquets: peonies!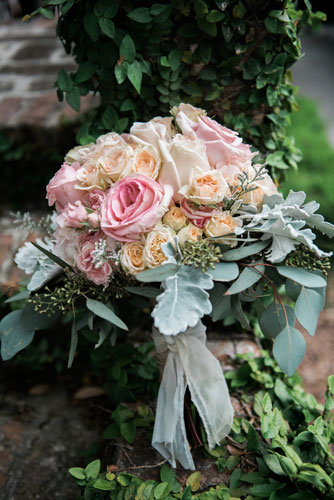 English Garden Bouquets
English Garden bridal bouquets are similar in shape to posy bouquets, but they are looser and less structured which gives them a more natural, boho vibe. The stems in English Garden bouquets are not held together with florist's wire, rather they are simply hand tied with ribbon or fabric which lends to their overall casual and freshly-picked look. This versatile look can be perfect for rustic, bohemian, beach, and garden styled weddings; it all depends on the blooms and greenery you choose for your bouquet!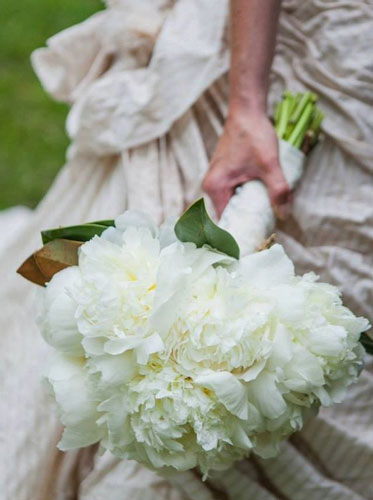 While the tops of the three preceding bouquets are all rounded (think top of an ice cream cone, just a half-sphere), actual round bouquets are completely spherical at the top. Another major difference in this style of bridal bouquet is that it often is created with just one type of flower, rather than a mix of florals. Round bouquets are traditional and elegant, whether designed in a tight cluster or in a loose and whimsical style. They are also ideal for just about any wedding style, color scheme, or dress type.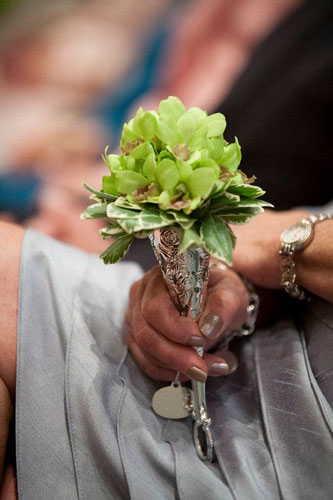 Tussie Mussie Bouquets
Tussie Mussie bouquets, like English Garden bouquets, are very similar to posy bouquets. The main difference between the two is that tussie mussies are much smaller than other bouquets. This compact cluster of flowers and leafy greenery is wrapped tightly and cut to one uniform length, and has been around since medieval times. Talk about a classic! Once cut, the stems of these bouquets are tucked into a small metal holder that can either be worn or used as a vase. In addition to their lovely fragrance, tussie mussie bouquets are widely favored for their simplicity and elegance. Tussie mussies are commonly worn by mothers and grandmothers of the bride and groom, but for a bride who wants more attention directed to her swoon-worthy wedding dress than her flowers, this small yet stately bridal bouquet is the perfect accent.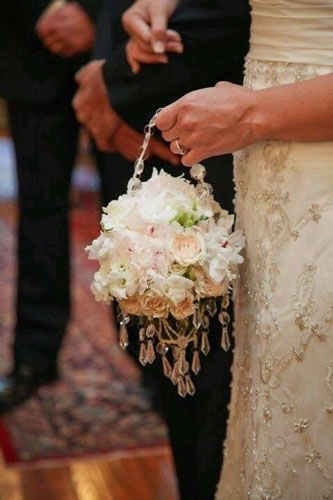 While more frequently used for bridesmaids' or flower girls' bouquets, some brides choose a pomander bouquet. This style, also known as a kissing ball, is comprised of a perfectly round sphere of flowers that hangs from a decorative handle. The handles can be either a color-coordinated ribbon, or lined with pearls, jewels, lace, or crystals. The blooms used in pomander bouquets are most often similar in size and color, and can either overlap or be separated by decorations like pearls or baby's breath. In addition to serving as bridal bouquets, pomanders are also used as ceremony decorations, often lining the aisle the bride walks down to say her vows.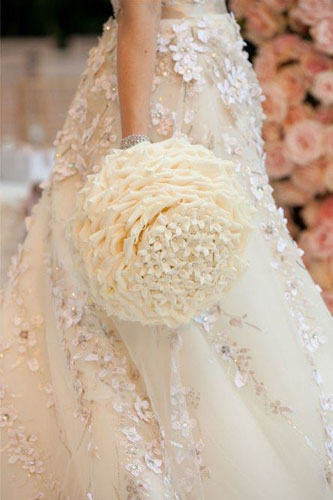 A composite bouquet, also known as a glamelia, appears to be one very large bloom, sometimes surrounded with more petals of a different color. In fact, this bouquet is actually made of individual petals that are wired together to create one impressive flower. While it is not a particularly common bouquet, it is a high fashion favorite – that also comes with a high fashion price tag. This look is ideal for a bride who wants a unique look that is simple yet sophisticated.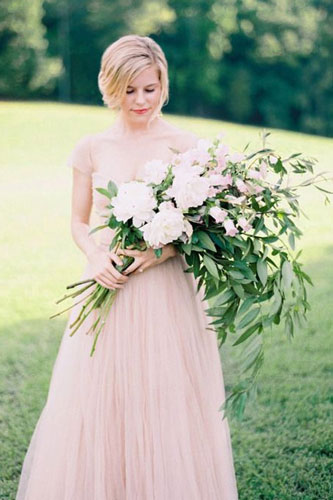 Also known as a presentation or arm sheaf bouquet, a pageant bouquet is designed to be cradled in a bride's arms – just like what a pageant winner holds as they are being crowned. This style is designed with long-stemmed flowers, and was originally known as a Bernhardt bouquet because of how often they were given to early 1900's actress Sarah Bernhardt. Pageant bouquets are perfect for brides who want a non traditional bouquet, and can be either single-ended (with blooms at one end and stems at the other) or double-ended (with blooms at both ends, no visible stems).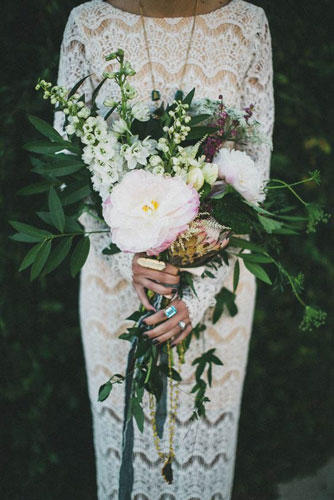 Boho Chic Bouquet
The boho chic bridal bouquet is perfect for brides that want a truly natural and elegant look. While it incorporates similar elements to English Garden and Cascading bouquets, the beauty of the boho chic style is that it breaks tradition and has a wide variation of bloom types and shapes. Typically, these bridal bouquets are wider, with an oval-shaped top that tapers down into a loosely-tied stem. Natural greens spill out of this bouquet, but do not taper down into a point like a Cascading bouquet. Rather, they flow spontaneously out of the arrangement. Most often, only one or two focal blooms are used, and are accented by a few smaller blooms and lots of natural greens. The key to a boho chic bouquet: Texture!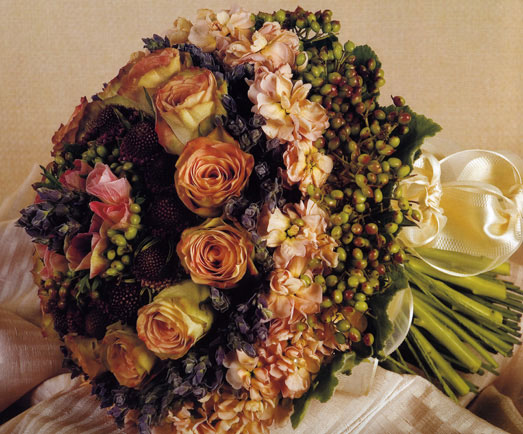 Biedermeier Bouquet
In this European style, blooms are arranged in tight circles spreading outwards from the center in rings of different colors – much like a bullseye or dartboard. Each ring is made up of a different type of flower; the colors can fade into one another or sharply contrast, but either choice results in a bold look for your bouquet. The Biedermeier bouquet originated in Switzerland and was named after a German style of interior design, and remains popular for its geometric appeal.