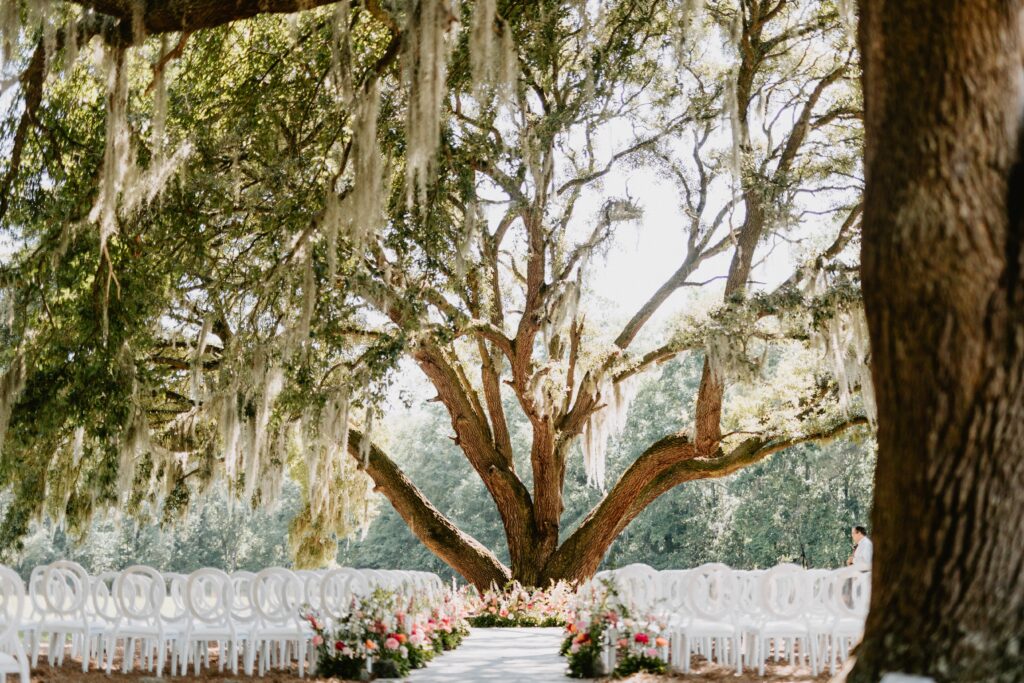 As wedding guests gather & the bridal chorus begins, the wedding aisle takes center stage as the most anticipated moment of the day plays out- the entrance of the bride. While of course nothing can steal from a blushing bride, we know a stunning aisle decor that showcases the couples style evokes a feeling of excitement & joy that adds to the heart of a ceremony. A worthy supporting role if you will…and the jaw dropping photos are a nice perk too!
Seeing as it's a trip you'll make twice (once up & then back again as a newly married couple), you'll want to make sure it's a design you love. Petals, arrangements, tiebacks, ribbons, or runners, your wedding aisle serves as an extra touch of personalized beauty, & we're here to help! Here are five of our favorite aisle designs from the past year…
1. Let's start with the obvious…Runners & Rugs:
While these aren't new trends, in fact they date back to days of barn weddings (before they were cool), when gravel roads actually required a runner, they are still in…& there's plenty of "new" ways to pull them off. A long & lavish runner offers a decorative element that compliments the overall décor & elevates a ceremony with a cohesive design of elegance. Alternatively, stylish carpets spread along an aisle can highlight the more eclectic couple's style, & help a simple design hold its own in the wedding world. In regard to aisle runners, there are a variety of paths you can take, or rather, "lay."
2. Next Up, The Overgrown Aisle:
Officially one of the most predominant wedding trends right now, & for good reason! Large or small arrangements overflowing with blooms or packed with lustrous greens, it's a magical way to line the "way." This design packs a statement making punch & can be a beautiful way to incorporate color & style into one of the most photographed (parts) of your day. Even better, the arrangements can be repurposed in other designs throughout your wedding to get the biggest bang for you buck! Scroll to down to see how we reused Kailah & Austin's ceremony arrangements in their reception design…
3. The Minimalist Approach:
The "less is more" mindset many modern couples are embracing, which most often features neutral wedding color palettes & lots of greenery, is adaptable for any season. Far from boring, an aisle sprinkled with just a few petals or lanterns, although low on aesthetics, is full of beauty. It shifts the focus from the décor to the occasion & highlight only the most important details that are genuinely significant to the couple.
4. Just The Entrance:
…or the end. Rather than decorating the entire aisle, just dress up the entrance or the end of it! A simple statement arrangement or a couple of strategically placed delicate, floral tie backs can go a long way in setting the feel for a ceremony. Just look how lovely…..
5. Focus On The Chairs:
The seating options in the world of weddings has come a long way in recent years. So far in fact, that a detail as functional as a chair has evolved to become an intricate part of ceremony & reception aesthetic. The right chair can stand (or should we say sit) all on its own when it comes to design. From wood to metallic, cross backs to tufted bottoms, the choices are endless, & we're loving everyone! …& with a location as show stealing as Hewitt Oaks & views like these, chairs are really all you need!
6. Sky's The Limit:
While runners & florals may be obvious choices for accentuating an aisle, chandeliers & string lights are another "over the top" way to "elevate" a ceremony. (& yes, we promise not to use anymore pun…at least in this paragraph anyway). But seriously, we absolutely love this trend & relish the opportunity to draw the eyes up & high"light" (forgive us) the dreamy branches on our century old oaks.
Whatever you choose your walk down the aisle should evoke a feeling of joy & be a representation of who you are & the love story you share with one waiting at the other end. With over twenty years of planning experience & a vast, on site, collection of rentals we are experts in matching couples to their wedding style & dream day. If you're ready to walk down the aisle, let us help you take the first step in the planning process.