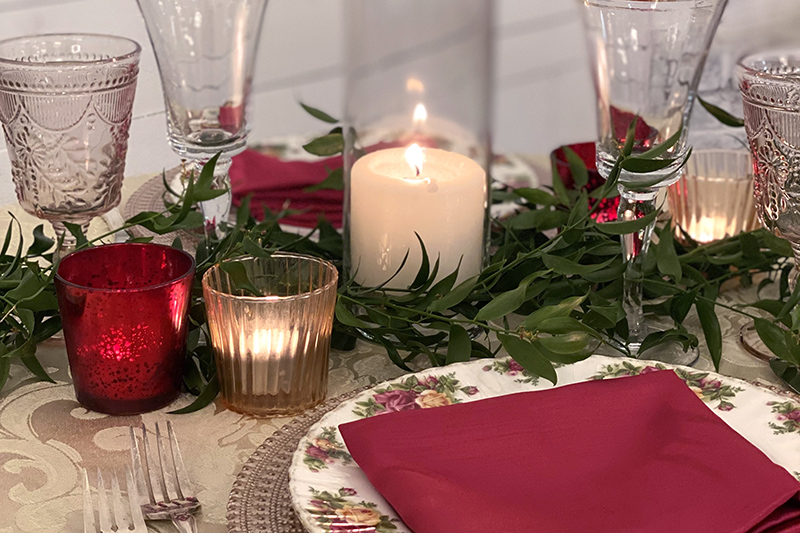 Effortless entertaining to bring connection & joy
Southern Graces Gourmet to Go is your secret to a stress-free celebration! Our versatile menu features delicious dishes to fit any type of gathering, from a casual business lunch or fashionable hors d'oeuvres party, to an elegant four-course dinner.

Our menu combines a balance of flavors, styles and textures for indulgent dishes that are sure to satisfy every palate. We source locally whenever possible, and promise to use the finest ingredients to ensure your food is fresh and delicious.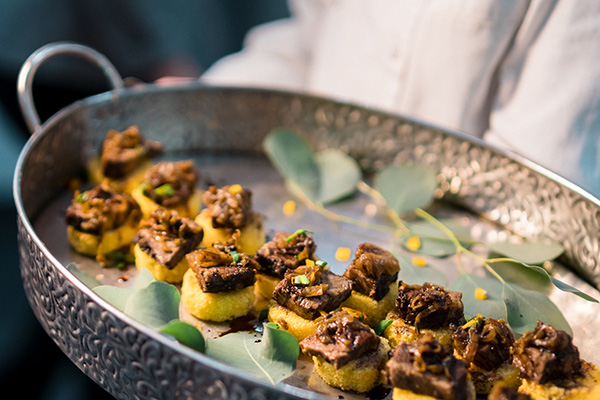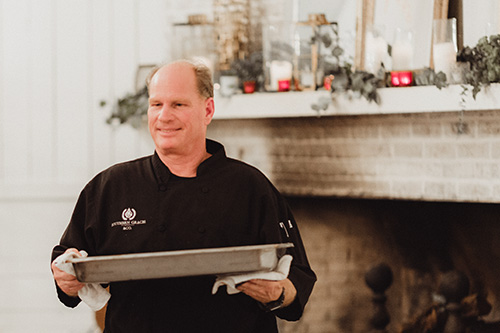 Executive Chef Christopher Hewitt graduated from the Culinary Institute of America at Hyde Park, NY and brings extraordinary talent and experience. Chef has earned many other awards and accolades, including Bluffton Today's Best Chef in Bluffton. He's an expert at taking everyday favorites and turning them into an extraordinary culinary experience!
Classic Southern Breakfast
Carolina Breakfast Casserole
Tillamook Cheddar Cheese, Yukon Gold Potatoes,
Carolina Pit Ham, Sauteed Mushrooms & Caramelized Onions 
Biscuits with Creamy Sausage Gravy
Hewitt Honey, Whipped Strawberry Butter
& House-made Jam
Maple Sausage Links
Smoked Gouda Grits 
Bourbon Glazed Cinnamon Rolls 
Citrus Roasted Apples 
$22.95 per person
10 person minimum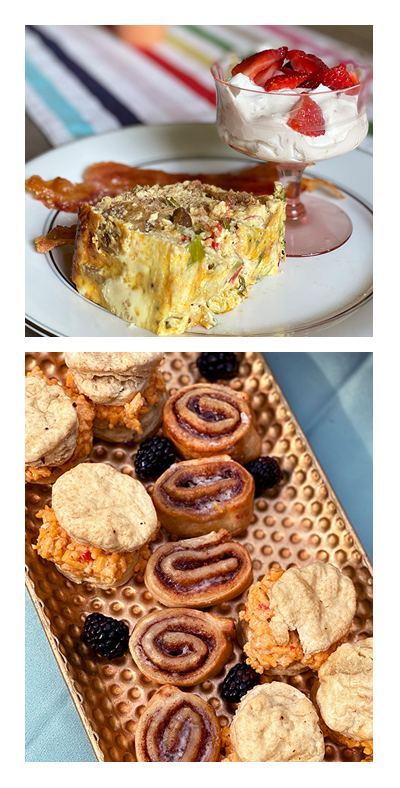 Choice of Quiche Lorraine
With Bacon, Swiss, Gruyere Cheese & Green Onion
With Fresh Spinach, Fresh Tomatoes, & Asiago
Tillamook Cheddar Hash Brown Casserole
Raspberry White Chocolate Scones with Jam
Cinnamon Cigars
Mixed Fruit
Million Dollar Bacon
Chocolate Dipped Strawberries
Chef's Dessert Bites
$26.95 per person
10 person minimum
Lemon Lavender Fruit Salad
Blueberry, Apple Cinnamon, or White Chocolate Raspberry
Citrus, cream cheese, capers, & herbs rolled as a savory lollipop
with Smoked Salmon
Brie wrapped in puff pastry and berries, baked and served
with savory butter crackers & GF Chips 
House-made silver dollar biscuits split and topped with our house-made Apricot Almond Jam with Hewitt Honey Mustard  and Carolina Honey Ham 
Finished with Hewitt Honey Maple Mustard 
Glam Tomato Tea Sandwiches
Classically Southern, stacked with Basil Aioli on crustless white bread
Delightful Chicken Salad Petite Croissants
Featuring our Citrus Chicken Salad
*contains pecans
Key Lime
White Chocolate Banana Pudding
Whipped Strawberry Cheesecake
Chocolate Creme Brulee
$34.95 per person
10 person minimum

*Add Bourbon Roasted Pork Tenderloin to any Breakfast/Brunch Menu
for an additional $6 per person – served with Parker House Rolls
**Add Herb Roasted Beef Tenderloin with Parker House Rolls & Horseradish Cream to any Breakfast/Brunch Menu
for an additional $10 per person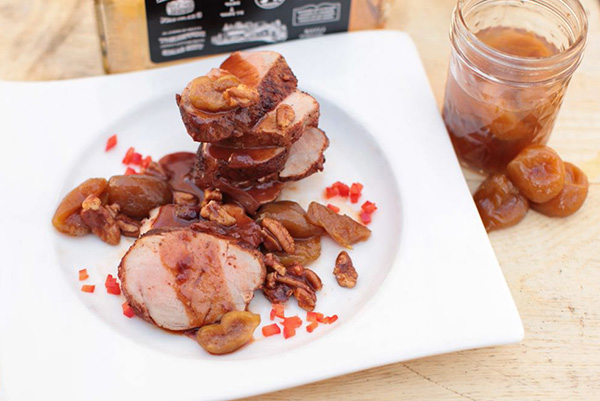 Features full wrap or full sandwich with your choice of side salad, house-made chips, & choice of dessert
*flavor selections in increments of 10
$15 each 
Features 1/2 wrap or 1/2 sandwich with your choice of side salad, house-made chips, & dessert 
*flavor selections in increments of 10
$13 each 
Features a full-sized salad with baguette & your choice of dessert 
*flavor selections in increments of 10
$16 each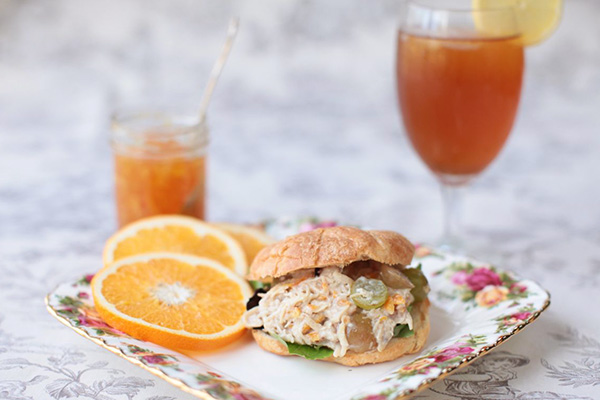 Black Forest Ham & Swiss with Dijonnaise
Smoked Turkey & Smoked Gouda with Cranberry Aioli
Ham, Turkey, Swiss, & Cheddar with Dijonnaise
Roasted Vegetable with Hummus
Black Pepper Roast Beef with Fresh Spinach & Gorgonzola Smear 
Mediterranean Pasta Salad
Mixed greens, goat cheese, sliced strawberries, toasted almonds with Sesame Lime Vinaigrette 
Crisp romaine, cornbread croutons, & parmesan with our house-made Caesar Dressing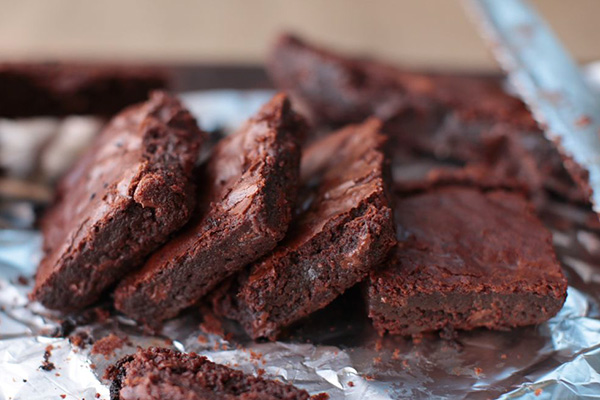 Kahlua Brownies
Bourbon Blondie Bars
Chocolate Chip Cookies
Southern Graces Signature PB Pretzel & Chocolate Cookies 
Club Med Salad with Pan-seared Chicken
Mixed greens, goat cheese, sliced strawberries,
toasted almonds with Sesame Lime Vinaigrette
Fresh spinach, roasted grapes, crisp apples, goat cheese,
& pan-seared Chicken with Honey Balsamic Vinaigrette 
Crisp romaine, fried black eyed peas, diced cucumber,
roast beef bites, diced tomato, tobacco onions,
& sharp cheddar with BBQ Ranch Dressing
Offered with baguette and choice of dessert 
*ordered in increments of 10
$16 each 
Minimum of 10 boxed lunches per flavor selection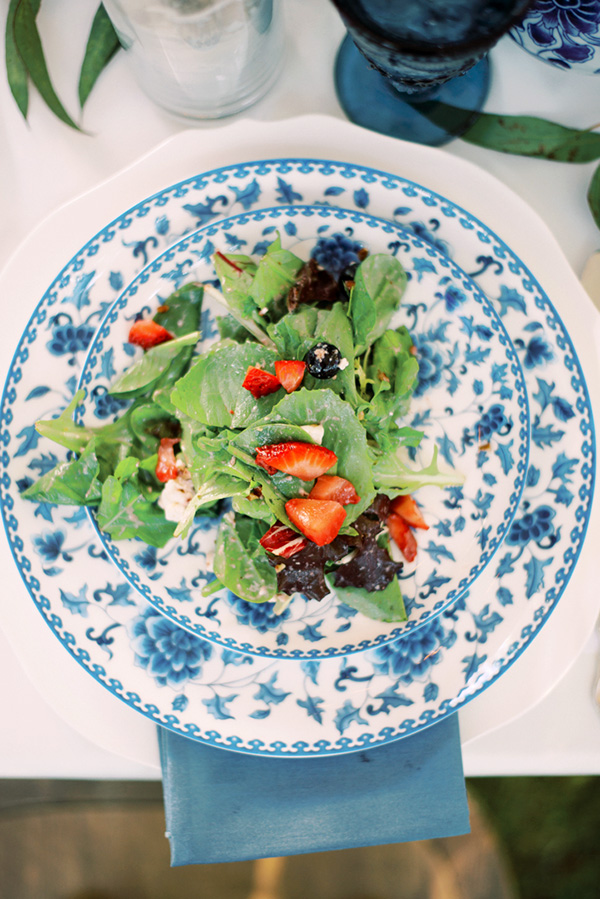 Gourmet Comfort Meals include Southern Caesar Salad or From the Garden Salad and House-made Yeast Rolls with Whipped Butter and our Southern Desserts to include White Chocolate Banana Pudding, Pecan Tarts, & Key Lime Tartelettes 
Select 1 entree & 2 sides:  $33.95 per person
Select 2 entrees & 3 sides:  $39.95 per person

Mediterranean Roasted Chicken
Airline chicken breast marinated in a white wine sauce
with fresh herbs, capers, olives, & lemon 
Bacon Wrapped Smoked Meatloaf 
Bourbon Roasted Pork Tenderloin
Offered with Seasonal Au Jus 
Fresh herbs and our tangerine inspired citrus marinade 
Chef's Champagne Fried Chicken
Marinated in buttermilk & champagne
for extra tangy moistness – legendary! 
Cheerwine Pulled Pork BBQ
Offered with our house-made Cheerwine BBQ Sauce 
Succulent airline chicken breast marinated in olive oil,
herbs, shallots and garlic then grilled and served
with a herbed white wine cream sauce
Tender beef, slow roasted with carrots & onions
in a decadent beef demi
Lowcountry Shrimp & Grits
Sauteed shrimp with Prosciutto Cream Sauce,
atop our Smoked Gouda Grits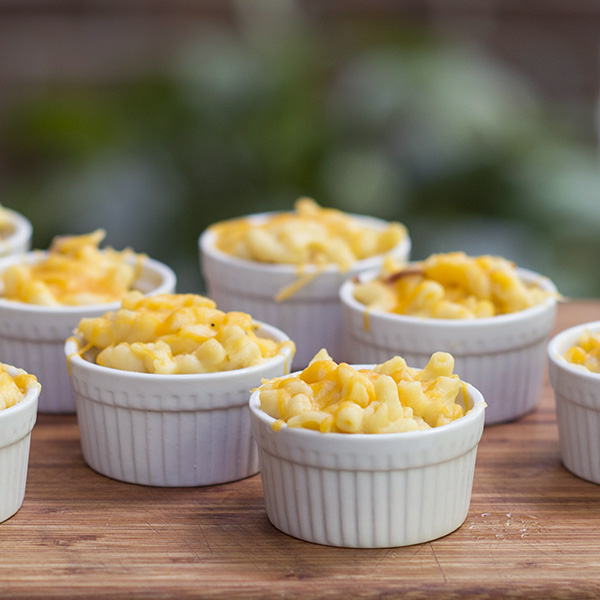 Whipped Potatoes
Southern Cheddar Mac & Cheese
Sauteed Green Beans
Brookfield Corn 
Roasted Red Bliss Potatoes
Roasted Root Vegetables
Honey Roasted Carrots
Broccoli Casserole
SOPHISTICATE GOURMET MEALS
Mixed greens tossed with a spicy pecans, cucumbers, cheddar cheese,
diced tomatoes, with a Basil Buttermilk Dressing 
Southern Chicken Saltimbocca 
This chicken breast is topped with prosciutto ham & mozzarella,
then roasted to perfection and finished with a Hewitt Honey Dijon Sauce.
Served with garlic mashed potatoes, sauteed green beans,
& roasted seasonal vegetables, assorted sliced breads
& miniature rolls with whipped butter
Chocolate Creme Brulee + White Chocolate Banana Pudding
$45 per person
15 person minimum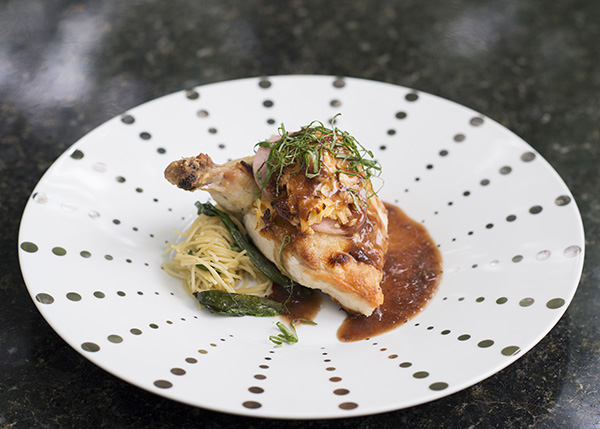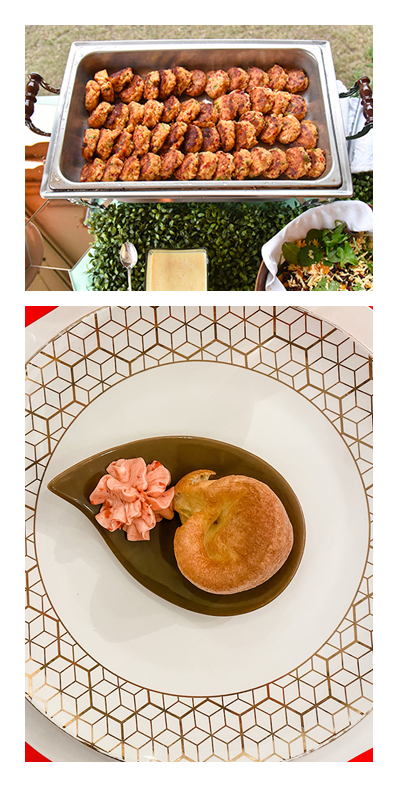 Offered with a Savory Old Bay Cheese Straw
Pinot Braised Beef Short Ribs


Sweet Potato Gratin or Yukon Gold Gratin


Brookfield Corn & Parmesan Roasted Zucchini


Popovers with Seasonal Butter
Showcasing delectable southern classics for a decadent ending! 
$49 per person
15 person minimum
Offered with Pimiento Cheese Straws
Mixed Greens tossed in Black Peppercorn Buttermilk Dressing with Candied Bacon & Fried Green Tomatoes
Perfectly Roasted Beef Tenderloin 
With a savory Cabernet Demi 
Corn Tortilla Crusted Red Snapper
With Smoked Tomato Relish.
Offered with choice of Horseradish Potato Gratin
OR Whipped Yukon Gold Potatoes
Roasted Asparagus & Spinach Maria


Popovers with Seasonal Butter
Dessert Selections (please select one)
Classic Tirimisu
Whipped Cheesecake with Berries
Caramel Apple Tarte Tatin
$55 per person
15 person minimum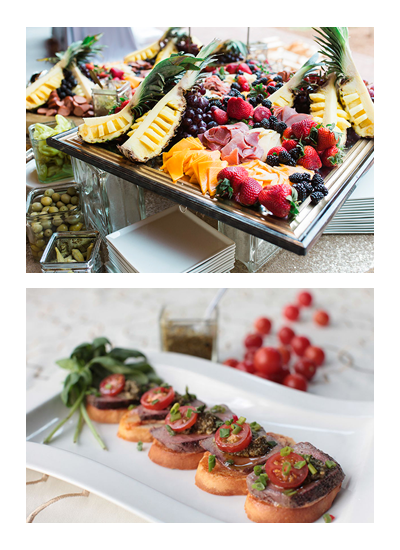 Seasonal Fresh Fruit & Berry Display
With  imported & domestic cheeses, gourmet crackers  & pita, and nuts 
Finished with basil pesto & sun-dried tomato tapenade 
Southern Graces Gourmet Chips
With Roasted Spinach & Artichoke Dip 
 BBQ Pulled Pork with Smoked Gouda Cheese & Collards 
To include Kahlua Brownie Bites, Bourbon Blondie Bars & Tartlettes 
$32 per person
15 person minimum
Charcuterie Platter to include fruit, cheeses, nuts, cured meats, & crackers.
Roasted Artichoke Dip or Lowcountry Crab Dip
– offered with pita chips & crackers
Please select four hors d'oeuvres: 
Sun-dried Tomato Beef Crostini
Pecan Crusted Chicken Satay
With a tart cherry mustard dipping sauce
Finished with 10 spiced local shrimp
With chile balsamic reduction
With caramelized onions, thyme, & chives
With wasabi aioli and soy reduction 
Asparagus & Wild Mushroom Spring Rolls
Drizzled with balsamic glaze & parmesan
Pulled Pork BBQ on a Grit Corn Cake
Smoked Summer Sausage Stuffed Mushrooms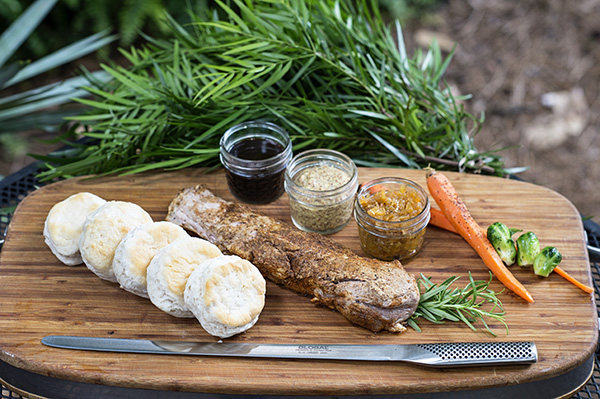 Please select one Butcher's Block item:
Garlic & Spice Roasted Pork Tenderloin with Parker House Rolls
Herb Roasted Turkey Breast with Yeast Rolls
$40 per person
15 person minimum
Southern Graces's Signature Beef Tenderloin
With Popovers, Horseradish Cream, & Au Jus
$50 per person
15 person minimum
Consuming raw or undercooked meats, poultry, seafood, shellfish,
or eggs may increase your risk of foodborne illness.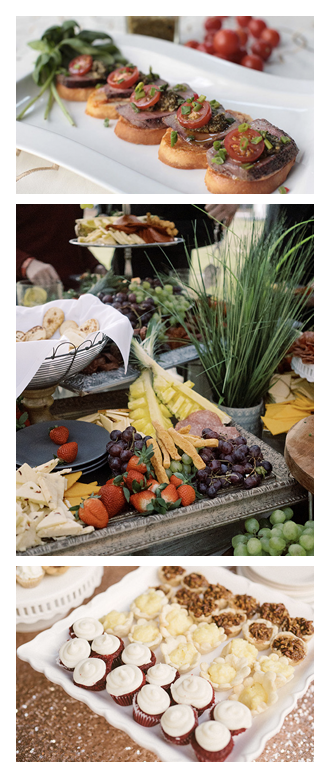 Our Gourmet to Go menu is designed to give you the enjoyment of hosting without the hassle of preparing the food! Meals come in disposable containers ready for you to serve. If desired, we'll include disposable plates and utensils. Food service is not included. Sales tax will be added to the order total.
Meals can be picked up or we'll deliver to you. Delivery fee is based on location: $25 for Bluffton, $40 for HHI, $50 for Beaufort and Savannah. Contact us for delivery availability to other areas. Pickup location is:
Hewitt Oaks
205 Stillwell Rd.
Bluffton, SC 29910
Menu changes or substitutions are not included with Gourmet to Go meals, but we'd be happy to provide you with a customized proposal at our standard pricing. We will make every effort to provide vegetarian, vegan, or gluten free accommodations with the included menu items whenever possible, provided we have advance notice.
Ready to sit back and let us do the party prep?
Can I order more than 4 servings at a time?
Yes certainly! You can order up to 11 servings for each meal. Just make sure to specify the quantity when you place your order. If you'd like to place an order for 12 or more servings, please give us a call at 843.757.4600
What extra food safety precautions are you taking?
We're limiting the number of people involved in food prep by operating with only our leadership team, who will be wearing gloves and masks. We are also checking each person's temperature before starting work each day. In addition to our usual food safety practices, we have increased the frequency for sanitizing of food contact surfaces, equipment, and utensils.
Will the food be hot when I get it?
Family Meals are properly chilled down after being prepared, and we provide instructions for reheating or freezing the meal.  If you WOULD like it hot when picked up or delivered, please let us know when placing your order and we're happy to accommodate!
What type of family activities do you include?
Each meal order includes a family activity to do together at home, such as an indoor scavenger hunt or Would You Rather cards for a fun game that can be played around the table.
Everything here was fresh, I mean carrots were hand cut, potatoes were hand cut, cheese was hand shredded not from a bag and the meat was great quality! The desserts were nothing but delicious! The wild berry pie was our favorite! I will continue to get family meals during the week to save me a night off from cooking and get a delicious, quality meal! Oh, and bonus, the family games that come with the meals are fantastic, we were able to have intentional time and learn something new about everyone. Thanks so much Bethany and your team!
Fabulous food, extra touches, delivery to your door. Amazing value. A Mother's Day feast!! Super Southern cooking for your whole family.
Wonderful family to go meals. Great menu, easy order & pick up, the meals were wonderful!!
Wonderful experience and the food was amazing for a Memorial Day party. Everything was ready for us to set up and entertain. Will definitely order again.
We have lived in Bluffton for 12 years and just tried the Southern Graces Mother's Day brunch. It was phenomenal so they will be a staple during and after this quarantine.
"Your passion for creating beautiful, joy-filled events & celebrations is so evident!! Thank you for the amazing feast we got to partake in this evening... my mouth is salivating at just the memory of my meal!! Your staff made each & every guest feel like they were the most important person in the room - as they served us with pleasure and confidence."