You imagine it…we make it happen
Our corporate clients love us. Why? Because they know they can give us a date, a budget, and a general idea, and we run with it, from the starting line to seamless event.
You can depend on Southern Graces to handle it all. Our full-service team is in-house, so you don't have to juggle multiple vendors with their own agendas, values, and styles. Let us help create your stunning event with your choice of our event services: planning, catering, design, and florals.
Imagine having one major point of contact for your company's big event—your personal Event Planner. Imagine having one full-service company with a dedicated, in-house team to handle every detail and create a positive, lasting impression on your leadership, colleagues, and other stakeholders.
You want a quick turnaround, a can-do attitude, and the ability to catch those curve balls. You've found the perfect fit in Southern Graces.
Southern Graces can handle any event, of any size, in any venue. We've created one-of-a-kind, stunning events for two dozen guests, all the way up to 4,443 guests (to be exact), but we are ready to break that record for your next event!
Want us to handle it all? Our full Event Management package includes site selection, entertainment & programs, event production & design, vendor coordination, logistical planning, on-site management, and budget management. In other words, tell us what you're envisioning, and relax while we make it happen.
Whether you're planning your company's next event solo or with your team, it never hurts to have extra helping hands during the planning process, especially when those hands belong to the professionals at Southern Graces.
Schedule your consultation with a Southern Graces Event Planner today to experience our unparalleled services in Savannah, Atlanta, Hilton Head, Beaufort and throughout the country.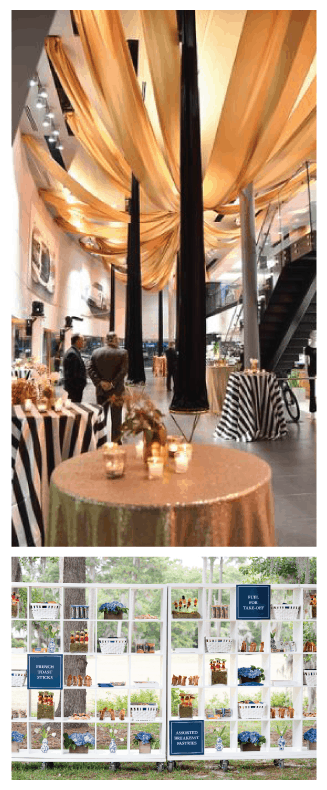 We've been whipping up indulgent food for over 20 years—trusted by clients including HGTV, CMT, Porsche, Gulfstream, and even the New York premiers of the first three Harry Potter films.
The Southern Graces Culinary Team is led by Executive Chef Christopher Hewitt, who worked in New York with Bobby Flay for 12 years, where he became an incredibly talented creator of fine cuisine.
The Southern Graces team prides itself on setting trends in food, in both taste and presentation. We masterfully combine the functional with the imaginative and bold to present cuisine your guests will be bragging about for years.
Unlike many other caterers, we prepare your food on-site, meaning you get fine restaurant quality food at every event. Southern Graces is dedicated to using fresh, local ingredients to provide an unforgettable experience for your guests—and their taste buds.
We cater corporate events and social events across Atlanta, Hilton Head, Savannah, Beaufort, and wherever you need a professional event production team! So no matter where your next event will be, you can plan on us being there to delight your guests with our indulgent food.
Ready to explore a taste of Southern Graces? You can choose from of a variety of delicious Southern Graces recipes, which can be customized for any tastes or dietary needs.
Whether you're planning buffet-style, food stations, or seated entree for your event, you'll find your perfect match in our menus. (If not, we'll create it!) Browse our Catering Menu Collection, complete with a list of our most-loved hors d'oeuvres, entrées, and desserts.
Is your mouth watering yet? We invite you to get a taste of Southern Grace!
(The tasting fee will be waived when you book our catering for your event.)
Why settle for another cookie-cutter corporate event when you can have a Southern Graces experience? Anything you can dream, we can make happen—even if what you're imagining seems too daring or even impossible. Try us.
At Southern Graces, bringing your vision to life with trend-setting design is second nature. Whether you prefer simple, elegant accents or a full-scale, jaw-dropping production, we offer in-house design and florals, as well as entertainment and event production to complete the overall vibe of your venue and event.
Our Everyday Inspired design services use premium lighting, fabrics, furnishings, and props to add an air of luxury to your event. You'll have your choice from our unmatched curated collection of furniture, linens, fine china, silverware, and décor, covering every style. If we don't have exactly what you're looking for, we'll track it down.
Your Event Planner will customize your proposal at the start of the planning process, outlining in detail the finishing touches we recommend for your event.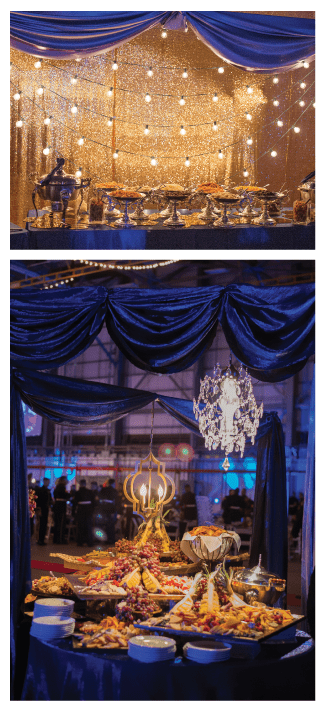 While we can't provide a solid answer without having a consultation, we can give you a range. A Southern Graces event with full-service planning, food, flowers, design, and rentals typically ranges from $30,000 to $100,000, depending on your guest count, location, time of year, time of day, and more. The best way to nail down a price is to share your vision with us.
Your passion for creating beautiful, joy-filled events & celebrations is so evident!! Thank you for the amazing feast we got to partake in this evening... my mouth is salivating at just the memory of my meal!! Your staff made each & every guest feel like they were the most important person in the room - as they served us with pleasure and confidence.
We just got married this past weekend in Beaufort at The Tabby Place. All of the families involved could not of been happier with our choice to go with Southern Graces. Crystal took care of everything from food, flowers to rental and coordinating the whole wedding! She made our dream wedding a reality. Thank you Southern Graces (Bethany, Crystal and all of the staff)!!!!
We have worked with Southern Graces on over 10 events. Each time is different. The food is always delicous and presented beautifully. The decor is amazing. However, what really sets this group apart is how special they make your guests feel. The service is above and beyond anything I have ever experienced. If you really want an amazing day, call Southern Graces.
We used Southern Graces for almost all of our wedding needs: catering, beverage service (we provided alcohol), day-of planning, florals, rentals, cake and event design. The initial proposal blew us away. The level of detail, connection to my Pinterest ideas/vision, and organization is what sold me. It was also extremely convenient and cost-effective to have so many of our services through one company.
We hired Southern graces for two of our daughters weddings. Bethany is incredibly talented. She's very easy to work with and I love that does everything from food to flowers to the set up design and everything is always beautiful. She pays attention to every detail. She has a team of very professional people that work with her. We highly recommend her.
Your passion for creating beautiful, joy-filled events & celebrations is so evident!! Thank you for the amazing feast we got to partake in this evening... my mouth is salivating at just the memory of my meal!! Your staff made each & every guest feel like they were the most important person in the room - as they served us with pleasure and confidence.