THANKSGIVING FAMILY DINNER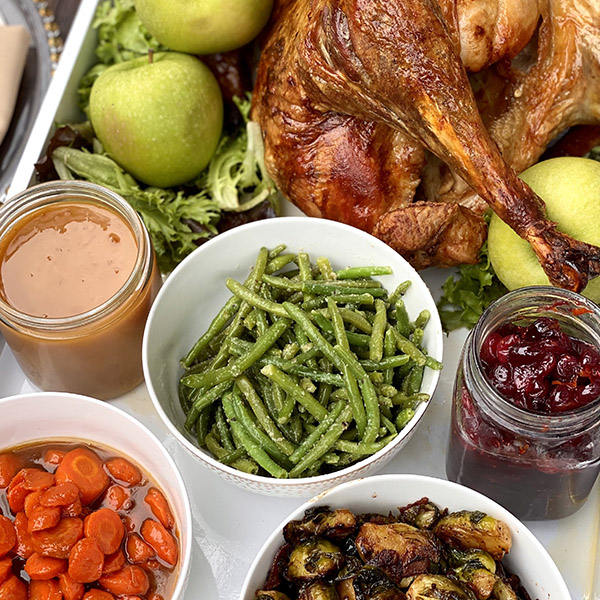 Grace your table with Southern comfort
Southern Graces Thanksgiving Family Dinners are prepared with love by our executive catering team. Each Thanksgiving meal includes a full-size 16lb. turkey with scrumptious side dishes and all the fixin's to serve six to eight people.
Our menu is a sophisticated take on Southern comfort with mouthwatering flavors that are sure to be a crowd-pleaser. Dinner add-ons and extra desserts allow you to customize your feast and delight everyone at the table. We hope to bring extra joy to you and your family and help lighten your load during this time.
Executive Chef Christopher Hewitt graduated from the Culinary Institute of America at Hyde Park, NY and brings extraordinary talent and experience. Christopher worked with Bobby Flay for 12 years, claimed an Iron Chef Victory, prepared dinner for Julia Child, and has earned many other awards and accolades. He's an expert at taking everyday favorites and turning them into an extraordinary culinary experience!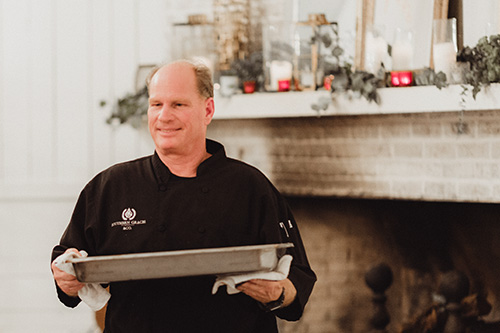 THANKSGIVING FAMILY DINNER
Even after a year like 2020, we have much to be grateful for! Celebrate big with the ones you love, but make it a little easier on yourself! Our Thanksgiving feast comes in oven-safe containers, ready to heat and serve, so you can spend more quality time with your friends & family.
16-lb HERB ROASTED TURKEY
Riesling Gravy
Roasted Apple & Cornbread Dressing
Cranberry Citrus Relish
Whipped Potatoes
Sorghum Roasted Carrots
Candied Bacon Brussel Sprouts
Sautéed Green Beans
House-made Yeast Rolls
8-inch Whipped Pumpkin Cheesecake
Turkey Cupcakes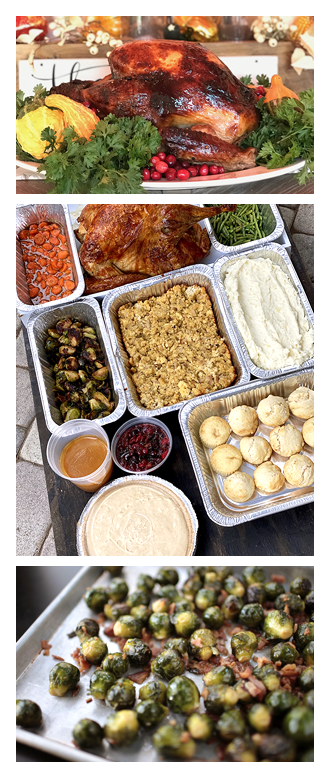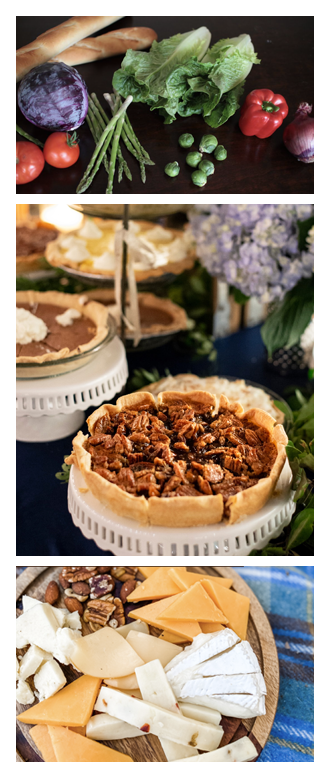 Turkey Breast, 5 pounds — $35*
Honey Glazed Boneless Ham, 4-5 pounds — $48
Smoked Gouda Mac & Cheese — $14/quart
Broccoli Casserole — $14/quart
Smoked Bacon Creamed Corn — $14/quart
Autumn Salad with Mixed Greens, Dried Cranberries, Roasted Apples, Toasted Pecans, Cinnamon Goat Cheese, & Apple Cider Vinaigrette — $18, serves 4-6
Cheese & Charcuterie Board — $49, serves 4-6
*only available with purchase of a Thanksgiving Dinner
Traditional Pumpkin Pie with Whipped Cream — $18
Bourbon Pecan Pie — $24
Caramel Apple Pie — $22
Pumpkin Butterscotch Blondies — $12 for 6
Kahlua Brownies — $12 for 6
White Chocolate Banana Pudding — $12/quart
Your Thanksgiving Dinner and any add-ons you choose will be ready for pickup on Wednesday, November 25 from 4-6pm with easy reheating instructions provided to enjoy on Thursday! Pickup location is Hewitt Oaks event venue:
205 Stillwell Rd.
Bluffton, SC 29910
Orders must be placed by Monday, November 23
(but don't wait until then – we expect to sell out!)
Consuming raw or undercooked meats, poultry, seafood, shellfish,
or eggs may increase your risk of foodborne illness.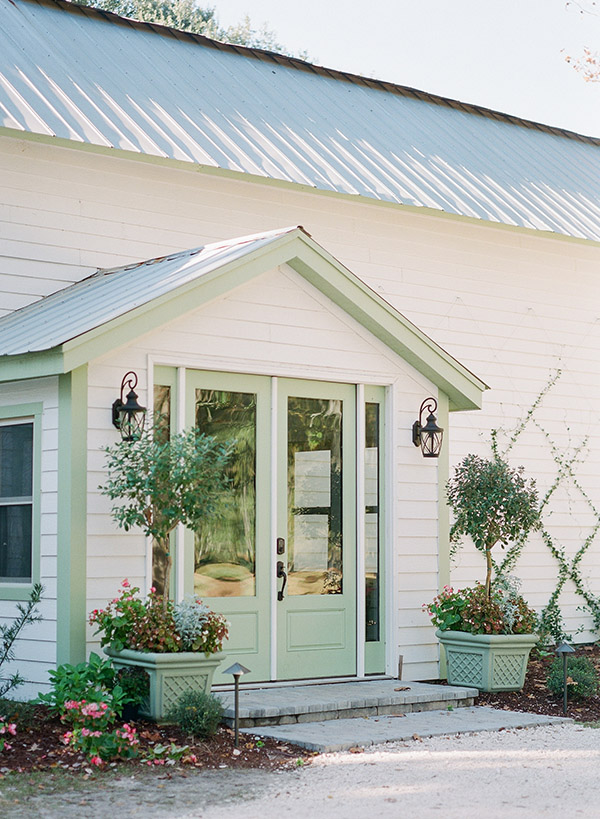 Photo by McSween Photography
To maintain social distancing, we are offering no-contact pickup on Wednesday, November 25. The location is our event venue, Hewitt Oaks, located at:
205 Stillwell Rd.
Bluffton, SC 29910
You can pull up in front of the main building, Gracie Hall. Once you enter the front doors, you'll see the pickup table with hand sanitizer. Your order will be labeled with your name. When ordering, 4-6pm will be automatically selected as your pickup timeframe. The 1-4pm pickup time is filled. 
Ready to sit back and let us do the cooking?
Do you offer meals for less than 6 people?
No, since each Thanksgiving Dinner includes a full-sized turkey, we include enough of each side dish to serve 6-8 people. If there's ever a time to have leftovers, Thanksgiving is that time! Or you could build your own dinner with a Thanksgiving ham and sides from our add-on menu.
What if I plan to host more than 6 people?
Each Thanksgiving Dinner serves 6-8 people. If you have a group of hearty eaters or plan to have more people, you could order multiple meals, which would each come with a full-sized turkey. Or you can select extra items from our add-on menu to make sure you have enough food and dessert for everyone (and some leftovers too!).
Will the food be hot when I get it?
Thanksgiving Dinners are properly chilled down after being prepared, and we will provide instructions for reheating or freezing the meal. Items that require reheating will come in oven-safe containers.
What extra food safety precautions are you taking?
We're limiting the number of people involved in food prep by operating with only our leadership team, who will be wearing gloves and masks. We are also checking each person's temperature before starting work each day. In addition to our usual food safety practices, we have increased the frequency for sanitizing of food contact surfaces, equipment, and utensils.
What if I change my plans and want to cancel my order?
Thanksgiving orders are non-refundable. However, you are welcome to transfer your order to someone else or give it as a gift! Please contact us at 843.757.4600 during standard business hours if you would like to do so.
THANKSGIVING DINNER ORDER FORM
Each Thanksgiving meal serves 6-8 people, including one 16lb. turkey. If you plan to have a larger group, you have the option to order additional meals or choose from our delicious add-ons below — and don't forget extra dessert!
Everything here was fresh, I mean carrots were hand cut, potatoes were hand cut, cheese was hand shredded not from a bag and the meat was great quality! The desserts were nothing but delicious! The wild berry pie was our favorite! I will continue to get family meals during the week to save me a night off from cooking and get a delicious, quality meal! Oh, and bonus, the family games that come with the meals are fantastic, we were able to have intentional time and learn something new about everyone. Thanks so much Bethany and your team!
Fabulous food, extra touches, delivery to your door. Amazing value. A Mother's Day feast!! Super Southern cooking for your whole family.
Wonderful family to go meals. Great menu, easy order & pick up, the meals were wonderful!!
Wonderful experience and the food was amazing for a Memorial Day party. Everything was ready for us to set up and entertain. Will definitely order again.
We have lived in Bluffton for 12 years and just tried the Southern Graces Mother's Day brunch. It was phenomenal so they will be a staple during and after this quarantine.
"Your passion for creating beautiful, joy-filled events & celebrations is so evident!! Thank you for the amazing feast we got to partake in this evening... my mouth is salivating at just the memory of my meal!! Your staff made each & every guest feel like they were the most important person in the room - as they served us with pleasure and confidence."