EFFORTLESS HOLIDAY ENTERTAINING WITH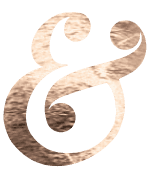 READY-TO-SERVE PARTY FOOD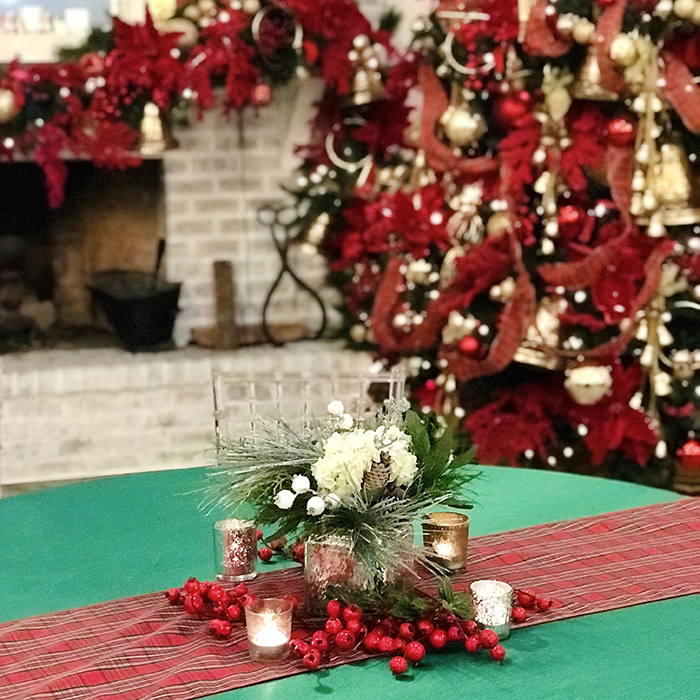 Celebrate the season with festive decor & delicious cuisine delivered to you!
This holiday season, we want to give you the gift of a stress-free celebration! Our personalized service and exceptional attention to detail means all your event needs will be covered, with indulgent menus, elegant design, and a delightful experience for all!
Pick and choose from our ready-to-serve party food menu and decorating packages to design a festive gathering that will be remembered for years to come! You'll get to make all the fun decisions about colors and flavors without the hassle and mess that comes with doing it all yourself.

Our Chefs combine a balance of flavors, styles and textures into whimsical menus that are sure to satisfy every palate this holiday season. We source locally whenever possible, and promise to use the finest ingredients to ensure your food is fresh and delicious.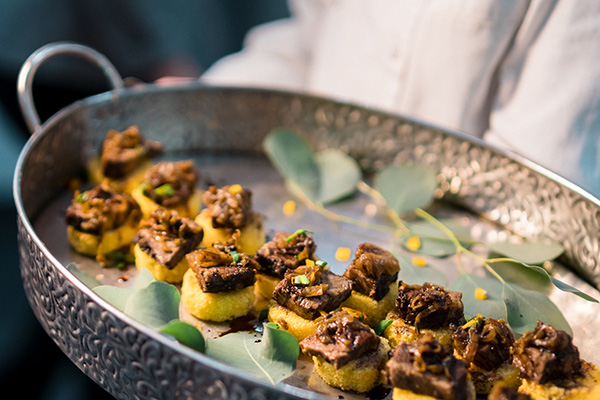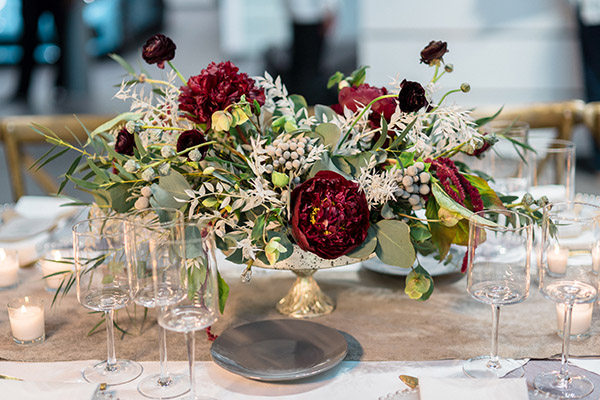 Our Designers will dream up tabletops and displays to enhance the theme of your event with stunning holiday style. Whether you swoon over traditional decor or welcome the whimsy of the unexpected, we will deck the halls and design your tablescape so you can simply savor the season.
READY-TO-SERVE
HOLIDAY PARTY MENUS
Whether you're planning a casual gathering with lighter fare or a classy mingle with an elevated vibe, our delicious holiday menus make entertaining effortless! Food comes ready to serve so you can have the fun of entertaining without spending extra time in the kitchen.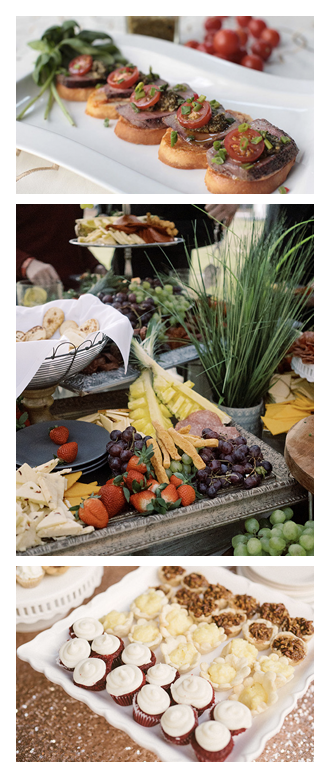 Ready-to-Serve Party packages are designed to give you the enjoyment of hosting without the hassle of preparing the food! Meals come in disposable containers ready for you to serve. If desired, we'll include disposable plates, cups, and utensils at no additional cost. Food service is not included. Sales tax will be added to the order total.
Meals can be picked up or we'll deliver to you. Delivery fee is based on location: $25 for Bluffton, $40 for HHI, $50 for Beaufort and Savannah. Contact us for delivery availability to other areas. Pickup location is:
Hewitt Oaks
205 Stillwell Rd.
Bluffton, SC 29910
Menu changes or substitutions are not included with Ready-to-Serve meals, but we'd be happy to provide you with a customized proposal at our standard pricing. We will make every effort to provide vegetarian, vegan, or gluten free accommodations with the included menu items whenever possible, provided we have advance notice.
Ready to sit back and let us do the party prep?
Our Designers will come to your party location, trim your tree or mantel, and dream up tabletops and displays to enhance the theme of your event with stunning holiday style for you to enjoy all season long!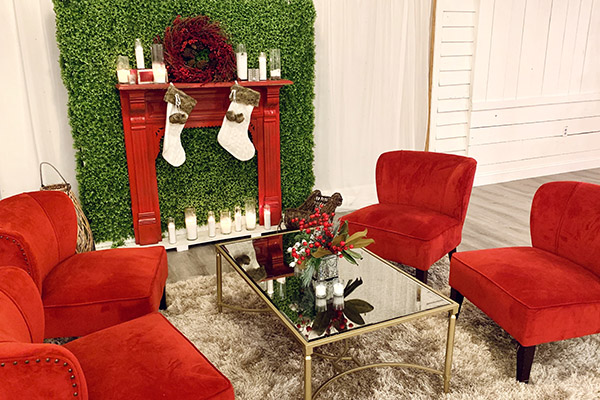 Southern Graces offers the season's brightest holiday décor of all! Whether your style is elegantly simple, or you prefer bright colors and festive cheer, our event designers will work with you to create a beautiful display that ensures delight for you and your guests all season long!
We can create any type of fresh floral design you'd like! Whether a showstopping centerpiece or elegantly simple table decor, floral arrangements are perfect to have made for your party and enjoy all season.
Limited availability — Book your home or office design installation soon!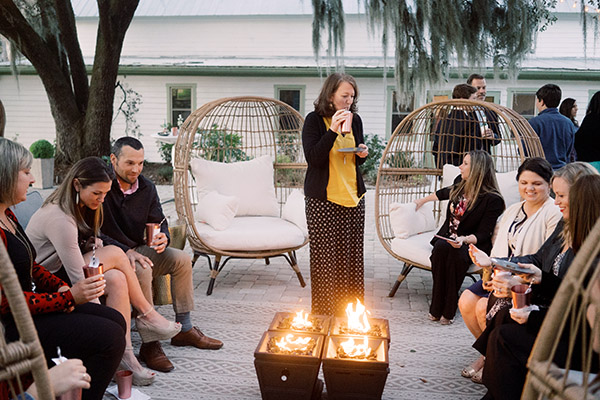 HOLIDAY GATHERINGS AT HEWITT OAKS
We welcome you to Hewitt Oaks this holiday season for your private event planned with ease. Enjoy the cozy warmth by the fire and sip on festive beverages, or treat your guests to a decadent feast in Gracie Ballroom.
Either way, our Holiday Gathering Packages give you a fabulous event without any of the work! With planning, catering, and design all included, you get to make all the fun decisions about colors and flavors and we'll handle the rest!
Can I order more than 4 servings at a time?
Yes certainly! You can order up to 11 servings for each meal. Just make sure to specify the quantity when you place your order. If you'd like to place an order for 12 or more servings, please give us a call at 843.757.4600
What extra food safety precautions are you taking?
We're limiting the number of people involved in food prep by operating with only our leadership team, who will be wearing gloves and masks. We are also checking each person's temperature before starting work each day. In addition to our usual food safety practices, we have increased the frequency for sanitizing of food contact surfaces, equipment, and utensils.
Will the food be hot when I get it?
Family Meals are properly chilled down after being prepared, and we provide instructions for reheating or freezing the meal.  If you WOULD like it hot when picked up or delivered, please let us know when placing your order and we're happy to accommodate!
What type of family activities do you include?
Each meal order includes a family activity to do together at home, such as an indoor scavenger hunt or Would You Rather cards for a fun game that can be played around the table.
READY-TO-SERVE PARTY
ORDER FORM
Everything here was fresh, I mean carrots were hand cut, potatoes were hand cut, cheese was hand shredded not from a bag and the meat was great quality! The desserts were nothing but delicious! The wild berry pie was our favorite! I will continue to get family meals during the week to save me a night off from cooking and get a delicious, quality meal! Oh, and bonus, the family games that come with the meals are fantastic, we were able to have intentional time and learn something new about everyone. Thanks so much Bethany and your team!
Fabulous food, extra touches, delivery to your door. Amazing value. A Mother's Day feast!! Super Southern cooking for your whole family.
Wonderful family to go meals. Great menu, easy order & pick up, the meals were wonderful!!
Wonderful experience and the food was amazing for a Memorial Day party. Everything was ready for us to set up and entertain. Will definitely order again.
We have lived in Bluffton for 12 years and just tried the Southern Graces Mother's Day brunch. It was phenomenal so they will be a staple during and after this quarantine.
"Your passion for creating beautiful, joy-filled events & celebrations is so evident!! Thank you for the amazing feast we got to partake in this evening... my mouth is salivating at just the memory of my meal!! Your staff made each & every guest feel like they were the most important person in the room - as they served us with pleasure and confidence."