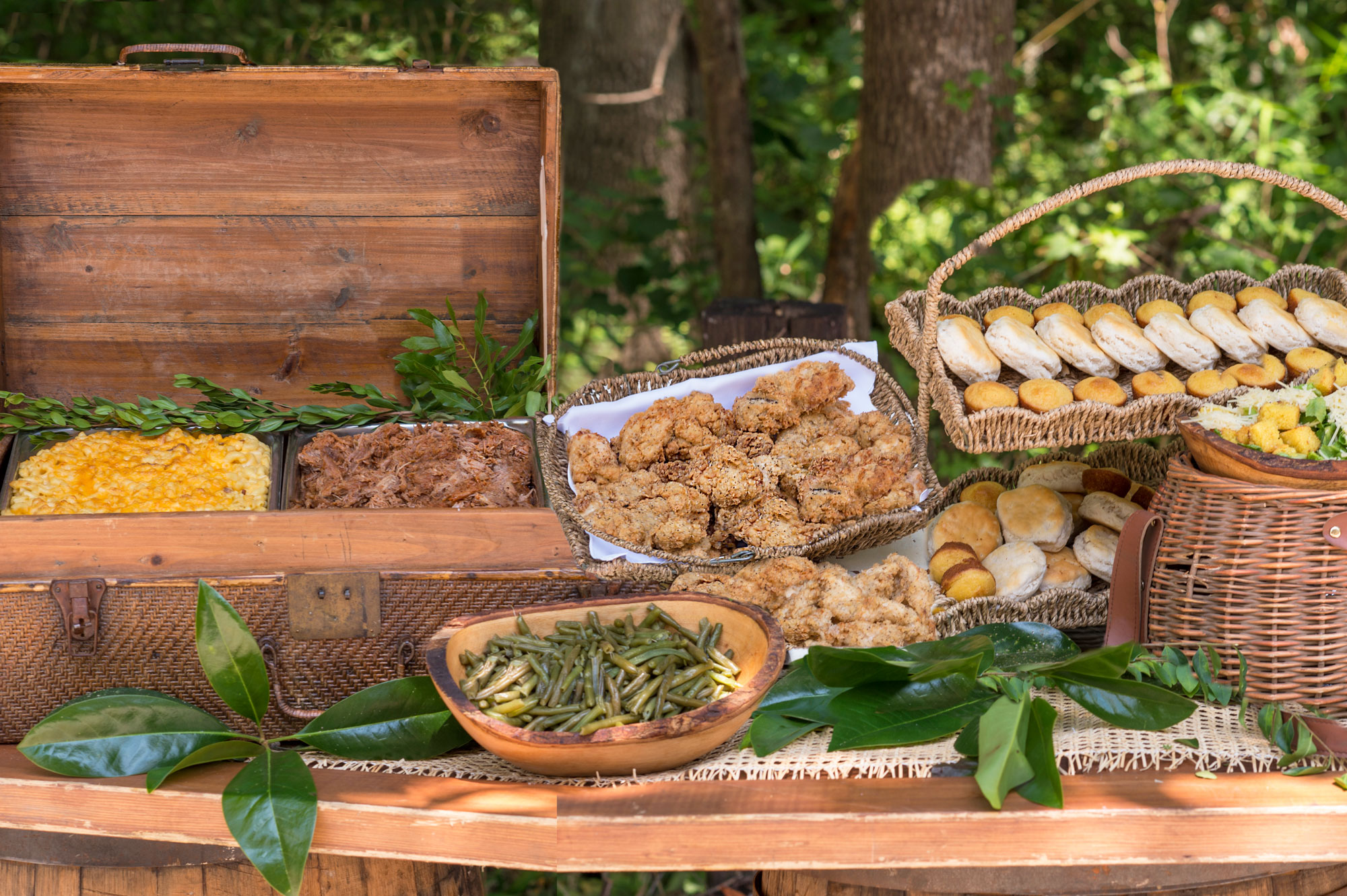 Southern Luxury Food Stations

Food stations are our take on a Gourmet Buffet, presented in multiple stations to help control your guests' waiting in a line, and also to encourage everyone to enjoy comfortable, yet sophisticated food.  Our food stations are beautifully presented, like art – so that you will eat with your eyes before you ever even taste a bite.   We suggest selecting one from each of the three savory sections listed (Garden, Land, & Sea) as a starting point for a well-rounded menu for you and your guests.  From there, we would recommend one additional savory station based on your preference, and would suggest no more than 5 stations total.  In our years of experience, four savory stations are most ideal if your budget allows, with five stations being a delicious indulgence.

Indulgent Fruit & Cheese
This station will showcase assorted domestic cheeses from award-winning farms, as well as international cheeses.   Loaded with the season's best fruits to include strawberries, cantaloupe, berries, grapes, and pineapple, it will be bountiful and boasting lots of color!  Presented with Wine & Rice Crackers
Southern Antipasto Board
Combining local flavors with Italian concepts, this noshing display will include: Roasted Artichoke Dip SG Signature Chips, Cheese Straws, Pickled Okra, Black-eyed Pea Relish, Boiled Peanut Hummus, Jalapeno Pimiento Cheese Dip,Olives, Country Ham, Prosciutto, & Pepperoncini
presented with sliced Baguettes & Crackers
Heirloom Tomato Caprese Station
Your guests will love creating their own Southern Caprese Salad, featuring yellow, orange, green, & red tomatoes presented with Basil & Cilantro Pestos, Cornbread Medallions, Fresh Basil, Garlic Black Pepper, Fresh Mozzarella, Crisp Spinach, alongside our Balsamic Vinaigrette, Basil Vinaigrette, & Olive Oil
Farmer's Market Display
Assorted seasonal sliced fruits & berries, Smoked Pecans, Local colorful vegetables (roasted, pickled, marinated, raw), Green Goddess Lavosh, freshly baked baguettes
Chef's Southern Season Best
A delectable combination of sliced fruits & berries, domestic & international cheeses, southern charcuterie with country ham & smoked sausage, assorted mustards & jams, Smoked Salmon display with boiled egg, chive crema, red onion, capers, lavosh chips & crostini
Charming Charcuterie Board
Cured Hams, Dried Smoked Sausages, Southern Pork Belly Pâte, Warm Olives, Cornichons, Roasted Garlic, Assorted Mustards, Fig Jam, Crostini
Dip Bar with Gourmet Chips
Roasted Artichoke Dip, Warm Crab Dip, Boiled Peanut Hummus, Pimiento Cheese Dip served with SG Chips, Lavosh Crisps, Salted Red Bliss Potato Chips, & toasted baguette
Southern Salad Bar
Three of our signature gourmet salads tossed by our Chef-tender.
Citrus Salad: mixed greens, mandarin oranges, smoked gouda, dried cranberries, toasted pecans, orange marmalade vinaigrette
Southern Caesar Salad:  romaine, parmesan, cornbread croutons, house-made Caesar with asiago crisps
Club Med Salad:  chopped kale, sliced strawberries, toasted almonds, herved goat cheese with sesame lime vinaigrette

Sea
Southern Sushi Station
Featuring Shrimp & Grits Sushi coated in panko and flash fried, Crab & Avocado roll with cucumber & carrots, & Spicy Tuna Roll featuring ahi tuna, sriracha sauce, & green onion– presented with gingered soba noodles, soy, & wasabi aioli
Roasted Oysters on the Half Shell
Lowcountry Rockefeller:  Smoked Collards, Country Ham, & Hollandaise
Chipotle Bourbon Brown Sugar, & Garlic and Pesto with Fresh Herbs and Srirachi.  Classically Roasted Oysters, lemons, & hot sauce bar
Fish Tacos
Grilled Mahi Mahi, Blue Corn Tortillas or Flour Tortillas, Corn Relish, Shredded Cheddar, Avocado Relish, Sour Cream, Chiffonade of Lettuce, Pico de Gallo
Southern Surf & Turf
Champagne Pickled Shrimp & Tournedos of Beef with Madeira Cream
presented with Salad of Frisee & Bibb Lettuce with Champagne Vinaigrette, Roasted Vegetables & Fried Potatoes
Shrimp and Grits Bar
First your guests will pick their grits:  Smoked Gouda Grits or Sweet Potato Grits, Then customize with their toppings: Caramelized Onions, Sautéed Shrimp, Sautéed Mushrooms, Bleu Cheese, Smoked Gouda Cheese, Balsamic Toasted Pecans and Applewood Smoked Bacon, Parmesan Cheese, topped with our Prosciutto Cream Sauce– Served in a martini glass
Chilled Seafood Selection
Oysters on the half shell, Local Peel-n-eat Shrimp, Little Neck Clams, Chili Almond Shrimp Cocktail, Champagne Mignonette, Drunken Cocktail Sauce, Fresh Lemon, Oyster Crackers
Thai Lettuce Wrap & Noodle Bar
Sauteed Shrimp or Tandoori Spiced Chicken offered with Bibb Lettuce Wraps or Rice Noodles, Guests Choice of Peanut Sauce or Sweet Chile Sauce and then their choice of toppings to include Cilantro, Shredded Carrots, Roasted Peanuts, Srirachi Sauce, Sliced Cucumbers, & Scallions

Land
SG Mac & Cheese Bar
Start with our indulgent Mac & Cheese, then customize it to your heart's desire:  Chopped Bacon, Cheddar, Diced Roasted Tomatoes, Parmesan, Caramelized Onion, Crispy Fried Pancetta, & Butter Poached Lobster
The Biscuit Bar
Sweet Potato Biscuits with Brown Sugar Baked Ham & Honey Mustard, Silver Dollar Biscuits with Fried Chicken Bites, and Buttermilk Biscuits with Lowcountry Sausage Gravy, Whipped Butter, & house-made Jams
Carolina BBQ
Slow-roasted Pulled Pork BBQ & Tender Grilled Chicken Satay offered with a custom BBQ Sauce Bar to include Cheerwine BBQ, Spicy Mustard BBQ, Hickory BBQ, & Tangy Vinegar served with Corn Muffins & Yeast Rolls, Southern Cole Slaw, Bread & Butter Pickles
Savannah Pasta Station
Southern Style Chicken Marsala over Angel Hair Pasta, Brown Butter Scallops with Fettucine Alfredo and Parmesan Crisps, & Fresh Tomato with Penne, Shrimp, Basil, & Parmesan.  Presented with our suspended Bread Bar to include flavored butters & olive oils, focaccia, & Italian herbs
Artisan Flatbread
Select three options:  
Applewood Smoked Bacon, Pimiento Cheese, & Fried Green Tomato
Caramelized Onion, Fig Jam, Artichoke, & Balsamic Reduction
Margherita – Fresh Tomatoes, Mozzarella, Basil, and EVOO
Blackberry, Sage, Goat Cheese, & Maple Balsamic Reduction
Potato Bar
You decide if you want your Idaho & Sweet Potatoes Roasted or Mashed, then offered with the following toppings:  Pulled Pork BBQ, Bacon Bits, Sour Cream, Whipped Butter, Scallions, Cheddar Cheese, Bleu Cheese Crumbles, Broccoli Florets, & Sauteed Mushrooms
Chicken & Waffles
Showcasing our Savory Waffle or Sweet Potato Waffle, presented with Fried Buttermilk Chicken, and delectable toppings to include Honey Mustard, Maple Balsamic, Candied Bacon, & Sawmill Gravy

Chef Carved Stations
Herb Rubbed Beef Tenderloin
Horseradish Cream, Dijonnaise, Blue Cheese Butter, & our Signature offered house-made Popovers, served with Spinach Maria
Bourbon Smoked Pork Tenderloin
Sage Demi, Garlic Mustard, & Peach Chutney offered with our Buttermilk Biscuits, served with Roasted Vegetables
Grilled Flank Steak
Balsamic Rosemary Marinated Flank Steak offered with French Bread and a fresh tomato relish, served with grilled Zucchini batons
Brown Sugar Glazed Ham
Buttermilk Biscuits, Honey Mustard Aioli with Garden Pasta Salad
Reisling Brined & Smoked Turkey
Reisling Gravy, Cranberry Chutney served with Yeast Rolls & Stewed Green Beans
Poached Side of Salmon
Select your Style:  Cheerwine BBQ Salmon or Citrus Roasted Salmon
Peppercorn Steamship Round of Beef
*Must be 75 guests or more, offered with Horseradish Cream, Dijon, & Yeast Rolls, served with Roasted Asparagus

Sweet Endings
The Southern Classics
Petite versions of the classics so you can have more than one:
Pecan Tassies, Red Velvet Cupcakettes, White Chocolate Banana Pudding, Coconut Crème Tartlettes, & Key Lime Tarts
Let Them Eat Cake!
Whole cakes served atop varying cake stands:
Strawberry Celebration Cake, Triple Chocolate Layer Cake, Hummingbird Cake, Carrot Cake, & Granny's Poundcake
Cobbler Bar
Baked in individual Mason Jars:
Peach Amaretto Cobbler, Chocolate Brownie Cobbler, & Drunken Berry Cobbler, offered with whipped cream
Pie Bar
Custom made whole pies, presented artfully on pie stands to include: Coconut Cream Pie, Lemon Icebox, Pecan Pie, Apple Pie, & Chocolate Strawberry Pie
Flash Fried Donut Station
Presented on our custom-made donut board for a fun & inventive presentation, your guests will love our fried donuts, offered with powdered sugar glaze, cinnamon sugar, chocolate ganache, & sprinkles
The Ice Cream Cart
Your guests will swoon over our Ice Cream Cart – offering your guests scoops of ice cream in sealed mason jars with toppings to create their own sundae to include: Chocolate & Caramel Sauces, sliced bruleed bananas, cherries, whipped topping, sprinkles, & chopped pecans
For the Love of Chocolate
Your guests will swoon over all the petite chocolate offerings:
Kahlua Brownie Bars, Chocolate Crème Brulee, White Chocolate Banana Pudding, Chocolate Dipped Strawberries, & Freshly Baked Chocolate Chip Cookies