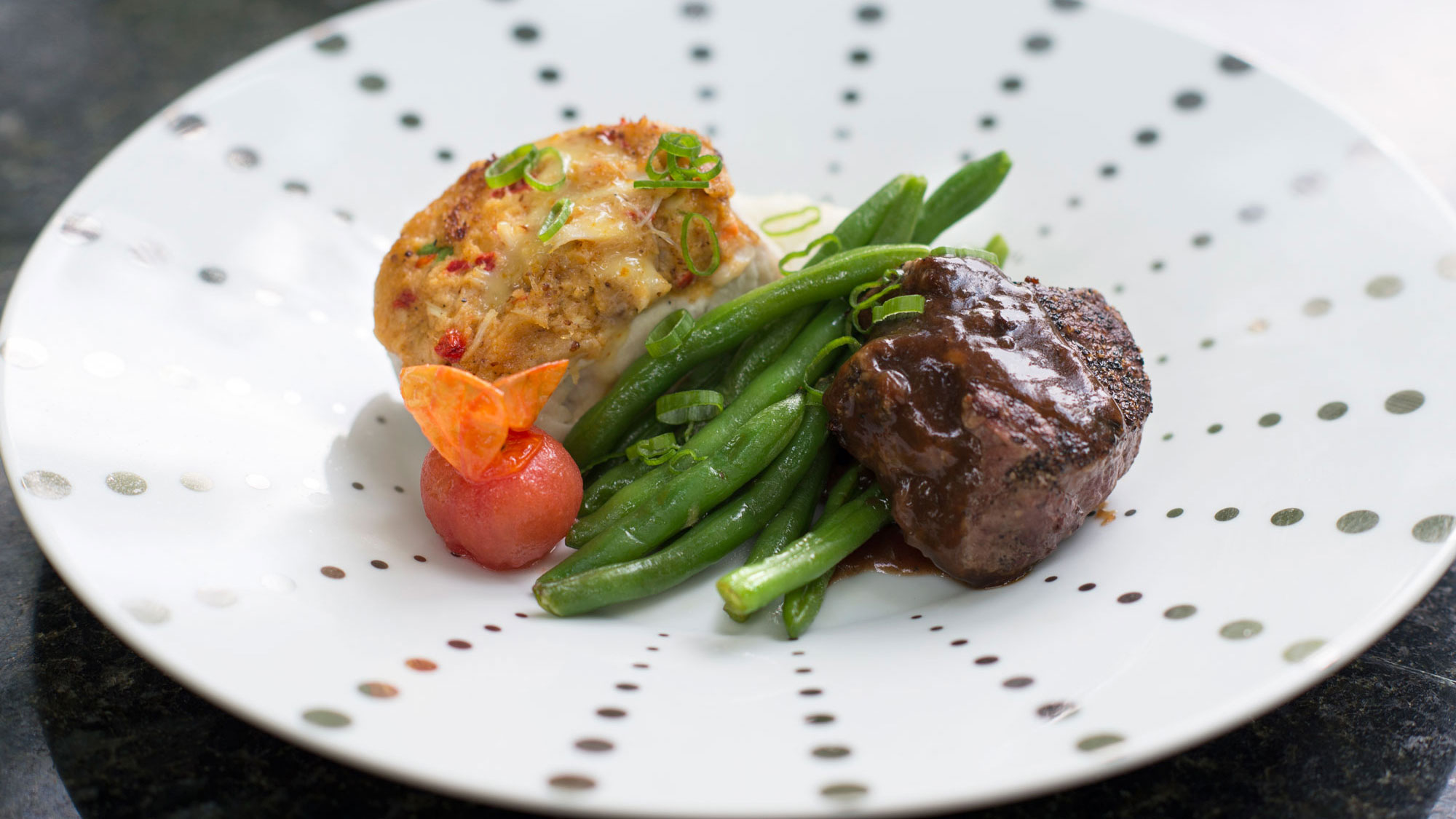 Seated, Served Selections
Plated Catering Service

Accompanied by Southern Graces' Signature Popovers with Seasonal Butter, along with our dramatic Synchronized Service for an exceptional dining experience for you and your guests.
 
Starter Selections
She Crab Soup
Presented with a Pimiento Cheese Straw
Southern Caesar
Crisp romaine tossed in our house-made Caesar dressing & parmesan, cornbread croutons
BLT Salad
Mixed greens tossed in Buttermilk Dill Dressing, stacked between Fried Green Tomatoes & Candied Bacon
Caprese Salad Napoleon
Featuring heirloom tomatoes layered between fresh mozzarella and basil pesto
The Wedge
Iceberg wedge with diced tomatoes, chopped bacon, & blue cheese dressing with balsamic reduction
Club Med Salad
Presented with mixed greens tossed in Sesame Lime Vinaigrette with strawberries, almonds, & herbed goat cheese
Butternut Squash Bisque
Purely indulgent, finished with our roasted apple and cinnamon crèma
Fresh Tomato Soup
Presented with diced avocado, blue corn tortillas, & cheddar jack cheese
Signature Citrus Salad
Mixed greens tossed in our Orange Marmalade Vinaigrette with toasted pecans, smoked gouda, dried cranberries, & mandarin orange segments

Entrée Selections
Land
Merlot Braised Short Rib
White Truffle Risotto with Roasted Root Vegetables
Lowcountry Chicken Saltimbocca
Flour-dusted & Pan-fried topped with Shaved Country Ham, Smoked Gouda, & Marsala Sauce. Served atop Angel Hair with Sauteed Spinach
Pistachio Encrusted New Zealand Lamb Chops
Finished with Green Apple Chow Chow, served with Sweet Potato Gratin & Roasted Asparagus
Grilled Filet of Beef
Topped with Porcini Demi, served with Whipped Potatoes & Sauteed Green Beans
Smoked Pork Tenderloin
Bourbon Brown Sugar Demi, served alongside Pimiento Cheese Gratin & Collards
Sea
Shrimp & Sweet Potato Grits
Chef Hewitt's signature Prosciutto Cream Sauce, served with Sauteed Spinach
Crab Stuffed Grouper
Lump crabmeat stuffed Grouper topped with a Lemon Beurre Blanc
Served Whipped Potatoes & Green Beans
Blue Corn Crusted Red Snapper
Roasted Green Tomato Couli, served with Organic Succotash & Roasted Asparagus
Cheerwine BBQ Poached Salmon
Presented with Sweet Potato Gratin & Sauteed Green Beans
Roasted Mahi Mahi
Grilled Pineapple Relish, served with Israeli Cous Cous & Grilled Zuchinni & Squash
Vegetarian Selections
Sweet Potato Ravioli
Smoked Pecan Cream Sauce, Balsamic Reduction with Sauteed Spinach
Grilled Portobello Steak
Balsamic Reduction, Whipped Potatoes & Roasted Root Vegetables
Beet & Goat Cheese Napoleon
Layers of roasted beets stacked with Herbed Goat Cheese finished with Pistachio Pesto, offered with Roasted Asparagus & Potatoes
Dual Entrée Selections
Filet of Beef & Crab Stuffed Grouper
This dynamic duo is sure to please the most discerning palette with upscale Southern flavors with global appeal
The Southern Pair
A delightful taste of the South, featuring a cosmo glass of our Smoked Gouda Grits & Shrimp with Prosciutto Cream Sauce, served alongside our Bourbon Smoked Pork Tenderloin with Sweet Potato Gratin & Roasted Root Vegetable
Fried Chicken & Lobster
A Whimsical Southern plate, featuring our classic Fried Chicken, marinated in buttermilk for unbelievable tenderness, paired with our Lemongrass Poached Lobster, finished with a Citrus Brown Butter and served with Whipped Potatoes & Stewed Green Beans with Pancetta
 
Plated Dessert Selections
SG Dessert Trio
Chocolate Crème Brulee, Strawberry Celebration Cake, & White Chocolate Banana Pudding
Bourbon Bread Pudding
Finished with Crème Anglaise and cinnamon dusting
Caramel Apple Baked Cheesecake
A hollowed apple filled & baked with cheesecake, finished with our caramel sauce
Key Lime Tart
Topped with Whipped Cream and seasonal berries
Praline Cheesecake
A sugary graham cracker crust baked with pecans and brown sugar reduction
Triple Layer Chocolate Cake
Granny's recipe showcasing delectable chocolate cake with chocolate ganache icing
Crème Brulee Duet
Classic Crème Brulee paired with our legendary Chocolate Crème Brulee for the best of both worlds!
Strawberry Shortcake
Stacked layers between a sweet biscuit, finished with Chantilly Cream & Champagne drenched Strawberries